Welcome to Hotwyr GWP – DogsNZ Accredited Breeder – Foundation Member.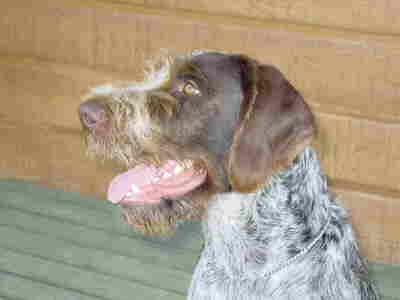 Hotwyr Kennels was established in February 2001 with the purchase of Kimmax Kontessa "Harriet" from Kimmax Kennels in Merseyside England. Kimmax are well known for their hunting/conformation lines. Introduced to the breed through Sled Dog racing (Rae already owned 2 Siberian Huskies) we fell in love with the affectionate, biddable and clown-like personality of the wire. In an attempt to introduce more blood lines into NZ, in 2002, we purchased Korskote Xpress Klass "Russell" from Korskote Kennels and in early 2004 had the first Hotwyr litter.
In April 2009 we welcomed a truly special dog into our kennels. "Bolt" came to us from our good friends Peter & Maxine @ Kimmax and is the 1st UK DD to arrive in Australasia, bringing with him some fantastic working bloodlines. He is the direct progeny of 2 highly rated Deutsch Drahthaar. He has sired two litters for us and has produced some stunning pups with excellent work ethics and conformation.
2010 – Hotwyr Australasia is born. We welcome Fiona Dempster (NSW) to the Hotwyr family along with Duey and their wires Piper, Bond & GSP Reyne.
2011 – saw more new blood coming into Hotwyr with the importing of a UK/Czech bred bitch (in conjunction with Fiona) and semen from a Dutch Dog. Plus the birth of our 1st Australian litter – Thanks Fiona you produced some super pups!
2012 – Hotwyr Australia imported some semen from Scandinavia.
and we have also become the first GWP NZKC accredited breeders in NZ and also with Fiona the only Accredited GWP breeders in Australia!!
2013 – Big changes as the kennels moves 2 of the dogs across to Australia with Rae. The oldies as noted above are all still at Hotwyr NZ in Timaru tho. Sadly we lost our gorgeous matriarch "Harriet" on Sept 4th at 13 years. Run Free Harry xx
2014 – Our gorgeous Russell leaves us on valentines day. Miss you Doo 🙁
2016 – A new direction for the kennels and our first black/white litter in 5 years.
2017 – Rae returns to NZ and settles in Christchurch bringing with her 4 wires including Elizabeth & Shirelle
2018 – Shirelle's last litter producing "Atticus" Ch Hotwyr to Kill A Mockingbird.
2019 – We welcomed "Jemima" from Germanus kennels in the UK huge thanks to Mandy & Robert Geary for allowing her to travel to the antipodes.
2020 – Covid – what can we say…… Vani has her first litter
Breeders of truly versatile GWP's – we have wires hunting (ducks, tahr, deer), and have produced some top trialling, showing, obedience, agility and sled dog racing GWP's as well…
Our Siberians……
Sadly in June 2009 we lost our 1st dog – 2XBISS Ch Sharivar Meshik SDCh "Meshik" and on Boxing Day 2012 his daughter Ch Osterrichi Alyeska Envy SDCh "Envy" – so we no longer have any at home.
Semen held from Mal Ch/NZ Ch Kiriay Double Oh Seven "Bond"
and Rae co-owns a gorgeous import bitch "Apple" NZCh Tiji's All American Girl (Imp USA) with Mel Quinn of Alpine Kennels.