Presents
Aust/NZ Ch Hotwyr Baby It's You – Shirelle
Sire: Kimmax Bolt (Imp UK)
Dam: Hotwyr Hard Days Night
Whelped: 29.01.2011
Eyes Clear – July 2011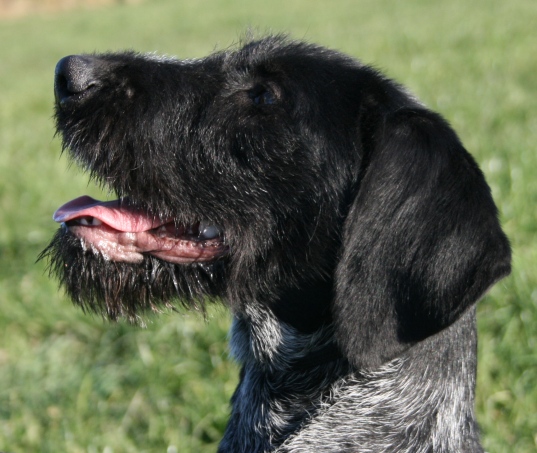 Shirelle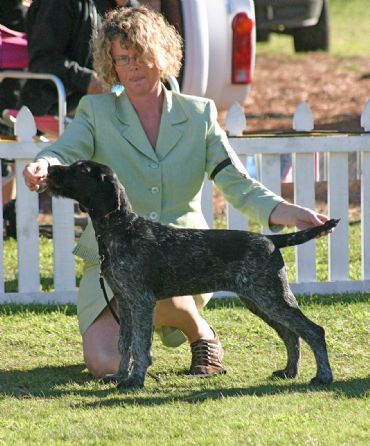 Shirelle in the Best Baby Puppy in Show Line-up May 2011
Achievements:
Shirelle is from our latest litter
She is our 1st home-bred Black/White GWP bitch to be shown and she is one hard headed young pup!
A bit of history on Shirelle's name……. The Shirelle's are Janice's (Shirelle's dams owner) favourite group. This litter was always going to be a "Beatles" themed litter and I wanted her call name to be connected to her pedigree name as you can see with most of my dogs. So I had to search about and see if the Beatle's had ever done a cover of a Shirelle's song…. THEY HAD!!
So Shirelle is Hotwyr Baby It's You!
…………………………………………………………………………………………………………………………………………..
5th Baby Puppy Stakes (All breed) May 11 – Judge: Donna Morris (Aust)
Best Bitch, Reserve of Breed, BABY PUPPY of GROUP (All Breeds) May 11 – Judge: Anne Hennigan (Canada)
BABY PUPPY of GROUP (All Breed) July 11 – Judge: Graham Kerr (Aust)
BABY PUPPY of GROUP (All Breed) July 11 – Judge: Glenda Goller (Aust)
Reserve of Group, Puppy of Group, 1st Puppy Stakes (All breed/Open) Aug 11- Judge: P Sharpe
Puppy of Group, 3rd Puppy Stakes (All breed/Open) Aug 11 – Judge: Clinton Hoebin
5th Puppy Stakes (All Breed) Aug 11 – Judge: Kay Findlayson
Puppy in Show, Reserve of Group, 2nd Puppy Stakes (All breed/Open) Sept 11 – Judge: Robynne Trainor
Reserve of Group, 3rd Puppy Stakes (All breed/Open) Sept 11 – Judge: Rhys Dwyer
1st cc and Reserve of Breed Oct 11 – Judge: Mr A Fitzgerald (Aust)
PUPPY of GROUP (All breeds) Oct 11 – Judge: Sue Gray (Aust)
PUPPY of GROUP/Runner-Up Puppy in Show (All breeds) Oct 11 – Judge: Pauline Suhr (Aust)
PUPPY in SHOW, Best Mover < 12 mths, Best Puppy Head (Continental) Nov 11 – Judge: Mr C Bexon (UK)
Runner-up All Breeds Puppy Stakes (97 entries) Nov 11 – Judge: Mrs M Hickie (Aust)
PUPPY in SHOW (All Breeds) Nov 11 – Judge: Mrs H Weil (Aust)
1st All Breeds Puppy Stakes Dec 11 – Judge: Mr G Carleton
RESERVE of GROUP, JUNIOR of GROUP NZ Champion (all breeds) Feb 12 – Judge: Mrs C Stuart (Aust)
JUNIOR of GROUP (All Breeds) March 12 – Judge: Mrs J McErlane
JUNIOR of GROUP (All Breeds) March 12 – Judge: Mrs C Speed (Aust)
JUNIOR of GROUP (All Breeds) Oct 12 – Judge: Mrs S Brackman (Aust)
JUNIOR of GROUP (All Breeds) Nov 12 – Judge: Mr I Smith

Pedigree of "Aust/NZ Ch Hotwyr Baby It's You (Exp Aust) – Shirelle"

Parents
GrandParents
GreatGrandParents
SIRE

Kimmax Bolt (Imp UK)     

Uri vom Liether-Moor (Deu)

 Matze vom Schinkelberg
Ondra vom Liether-Moor
Joschi lll del Zeffiro with Kimmax (Imp Italy)
Hasso vom Bruhlwald
Blanka vom Hatzberg

DAM

Hotwyr Hard Days Night

Ch Jagerrob Tarn of the Styx SDCh
FTCh Ch Kobnko Kat Burglar (Imp Aust)
Dentrese Majestic on the Styx
NZCh Kimmax Kontessa SDCh (Imp UK)
Kimmax Kandy Stripes
Kimmax Upperkrust Krumpet to Alcazar