Hotwyr She's Charmed – Meer
Sire: NZCh Korskote Xpress Klass SDCh (imp Aust)
Dam: NZCh Kimmax Kontessa SDCh (imp UK)
Whelped: 16/01/2004
Eyes – Clear. Hips: 2/2 Elbows: 0/0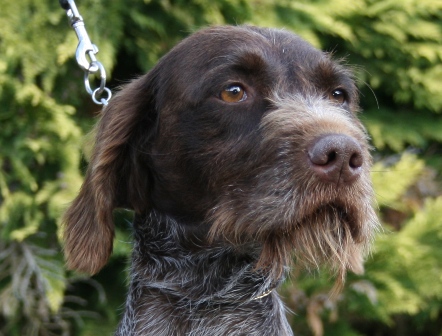 Meer
Achievements:
Meer belongs to Roger Gould (Timaru) who waited over 18mths for her to be born and join his family. Meer along with Judd (Lab) and Becs (Chessie) form Rogers hunting team who by all accounts are a very successful combination in the field.
At only 6 years of age Meer has tracked over 170 deer and is nothing short of a legend amongst South Canterbury hunters… 🙂
24/03/08 – Meer attends her first Championship dog show and is awarded the bitch cc.
Health Tests:
Hips: 2/2
Elbows: 0/0
Thyroid tested
Eye tested
vWD pending

Pedigree of "Hotwyr She's Charmed – Meer"

Parents
GrandParents
GreatGrandParents
SIRE

NZCh Korskote Xpress Klass SDCh (imp Aust)     

Ch Korskote Touch of Klass (AI)

 .
.
Aust Ch Skadala's Alara
.
.

DAM

NZCh Kimmax Kontessa SDCh (imp UK)

Kimmax Kandy Stripes
.
.
Kimmax Upper Krust Krumpet to Alcazar
.
.